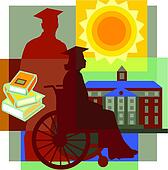 As a student with a disability leaving high school and entering postsecondary education, will I see differences in my rights and how they are addressed?
Yes. Section 504 and Title II protect elementary, secondary, and postsecondary students from discrimination. Nevertheless, several of the requirements that apply through high school are different from the requirements that apply beyond high school. For instance, Section 504 requires a school district to provide a free appropriate public education (FAPE) to each child with a disability in the district's jurisdiction. Whatever the disability, a school district must identify an individual's educational needs and provide any regular or special education and related aids and services necessary to meet those needs as well as it is meeting the needs of students without disabilities.
Unlike your high school, however, your postsecondary school is not required to provide FAPE. Rather, your postsecondary school is required to provide appropriate academic adjustments as necessary to ensure that it does not discriminate on the basis of disability. In addition, if your postsecondary school provides housing to nondisabled students, it must provide comparable, convenient, and accessible housing to students with disabilities at the same cost.
http://www2.ed.gov/about/offices/list/ocr/transition.html
U.S. Department of Education, Office for Civil Rights,
Students With Disabilities Preparing for Postsecondary Education: Know Your Rights and Responsibilities
, Washington, D.C., 2011.